2019-06-11

ASROCK INDUSTRIAL TO SHOW VIDEO SYSTEMS, EMBEDDED MOTHERBOARDS AT INFOCOMM 2019

Taipei, Taiwan (June 11, 2019) ASRock Industrial Computer Corp. (ASRock Industrial), a world leader in Industrial PC motherboards, will be presenting a range of cutting-edge products in booth 761 at InfoComm 2019, to be held June 12-14 in Orlando, FL USA.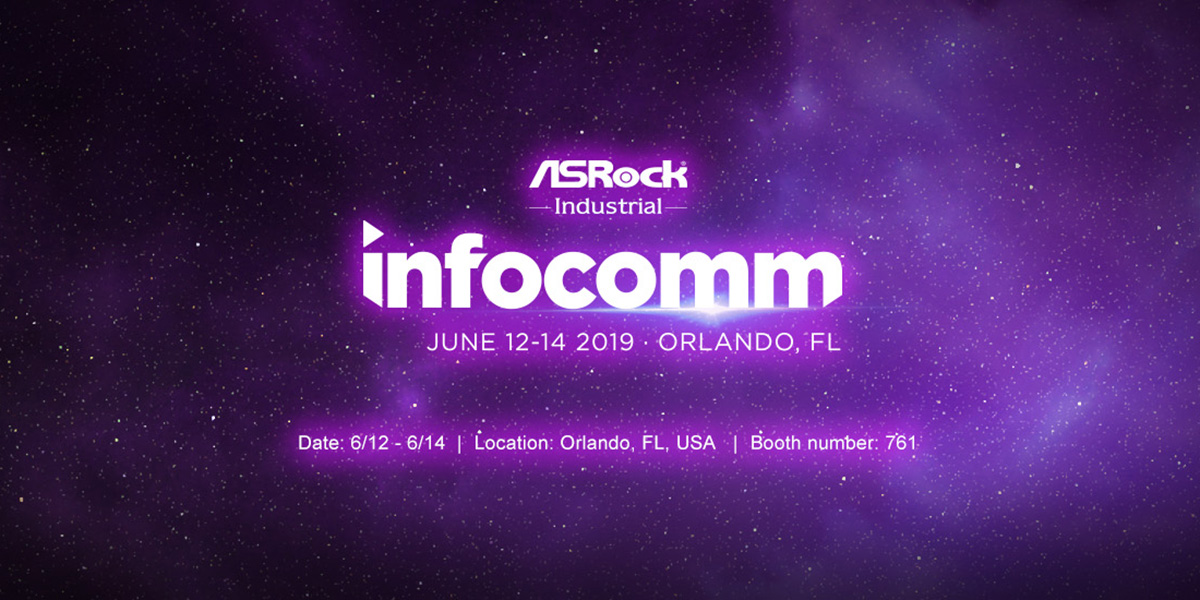 Showing off their expertise in industrial and embedded computing, ASRock Industrial will have athena A1 kits, an AI edge camera with innovative features targeting systems integrators and software companies, the powerful Jupiter embedded computer with built-in Gorilla IVAR software, and motherboards featuring the latest Intel® and AMD chips. Here are some highlights –
athena A1 kits with Intel® Movidius module support & Jupiter H310 with Gorilla IVAR: The athena A1 is a is an AI edge camera which supports Intel's Movidius™ module and OpenVINO™ tool kits for recognition analysis applications. Jupiter-H310 is a powerful embedded box computer that can support 16 cameras recording and six channels of video recognition at once.
iBOX-8365U, NUC-8365U, NUCBOX-8365U & IMB-1216: all based on Intel's latest eighth-generation processor Whiskey Lake-U i5-8265U. The iBOX-8365U is a fanless, compact, ruggedized system suitable for most industrial and embedded applications. Easily expandable and configurable, the iBOX-8365U boasts two DisplayPort connectors and one HDMI port that allow for three simultaneous displays. Also on board are three USB 3.0 and two USB 2.0 connectors, two RJ45 ports for 10/100/1000 Ethernet, one COM port and one 12V DC-in jack for the power adapter (included). The NUC-8365U is a board without the metal casing and comes with an active heatsink (fansink) for added thermal dissipation. There is one M.2 Key E (2230) to support PCIe and USB, and one M.2 Key M (2242/2260/2280) for SATA3 and PCIe. The IMB-1216 is a mini-ITX board-only system.
IMB-V1000, 4X4-R1000, 4X4 BOX-R1000, & IBOX-R1000: all using AMD's Ryzen™ Embedded SoC's. The IMB-V1000 is a motherboard that utilizes the powerful AMD Ryzen™ Embedded V1000 series, quad core, dual channel DDR4 and also ECC memory SO-DIMM up to 32GB, with power consumption from 12W-54W. It has four ports for DisplayPort 1.4 and supports up to four simultaneous displays. The other three products use the R1000 series, with two cores, dual channel DDR4 along with ECC memory SO-DIMM up to 32GB. All three products feature two ports for DisplayPort 1.4 and one for HDMI 2.0 output that can display three separate screens at the same time or be configured to one large screen; one M.2 Key M 2242/2260/2280 with PCIe x4 and SATA3, and one M.2 Key E 2230 with PCIe and USB2.0 for WiFi. There are three USB 3.1 ports, two RJ45 connectors for 10/100/1000 Ethernet and a reserved LPC header for TPM/Debug use. All products can run on Windows® 10 and Linux kernel 4.18 and above.
"Our booth at this year's InfoComm is designed to showcase our component capability. If you are a software vendor or system integrator and are looking for reliable hardware to make your solution happen, check out our products" said James Lee, General Manager of ASRock Industrial.
---