2020-08-11

ASRock Industrial Introduces Add-on-Cards for Expanded Applications

Taipei, Taiwan (Aug. 11, 2020) ASRock Industrial Computer, the world leader in industrial motherboards and systems, has announced the new Add-on-Card product lineup, offering a wide range of expanded application possibilities. From display, storage, bifurcation, and others, ASRock Industrial provides flexible integration and increases the cost-effectiveness of customers' total solutions. The Add-on-Cards are suited for retail, automation, server, networking, surveillance, embedded, and industrial applications.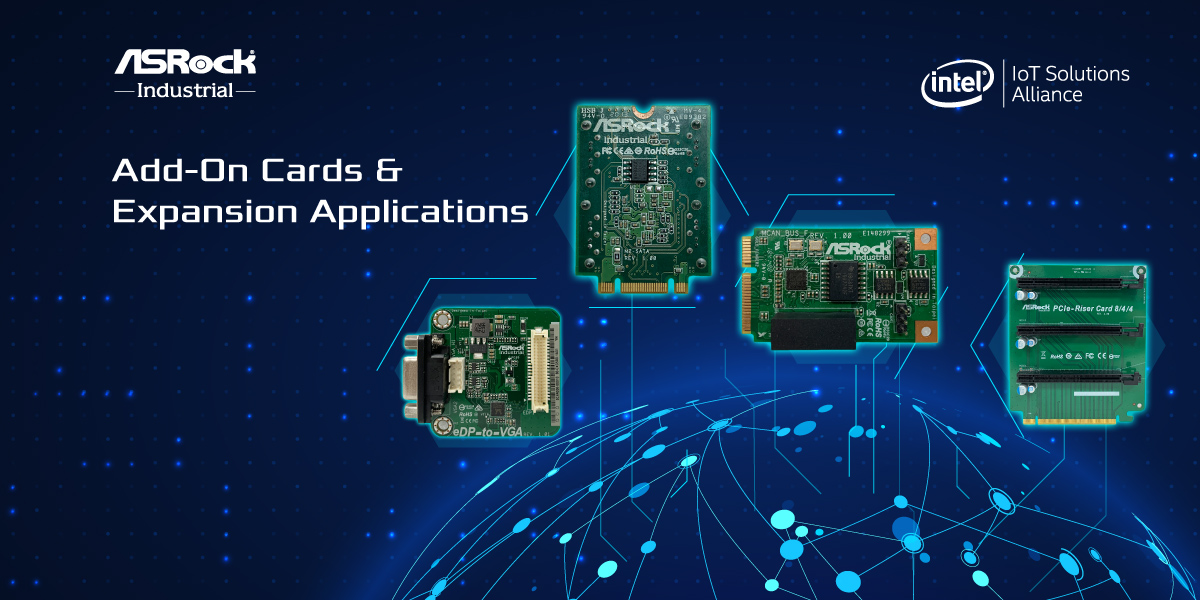 Display module cards to expand on multiple display ports without another system
ASRock Industrial's new display module cards include the eDP-LVDS, the eDP-VGA, and the M2-VGA to expand the output of the system from LVDS, VGA with resolution up to 1920 x 1200@60Hz. The eDP-LVDS supports eDP to LVDS with two-channel LVDS outputs and resolution up to 1920x1080@60Hz. Adopting Realtek RTD2168 IC, the eDP-VGA supports eDP function to VGA with a resolution up to 1920 x 1200@60Hz. Moreover, the M2-VGA can support M.2 to VGA with resolution up to 1920 x 1200@60Hz. With the adoption of the display module cards, industries can benefit from a complete solution that is flexible in its integration and can expand on the needed display port without another system. These display enhancements can be effectively applied in the retail, industrial, and automation industries, such as POS systems, Kiosks, and digital signage.
Storage module cards to support massive SATA ports of systems
ASRock Industrial's storage module cards include M2-SATA-4P, M2X4-SATA-4P, and MPCIE-M2 to support massive SATA/M.2 ports. Featuring PCI Express 3.0 to four SATA III ports, the M2-SATA-4P module card in the M.2 Key B-M 3042 form factor, and M2X4-SATA-4P in the M.2 Key M 2242 form factor transfer M.2 interface to four SATA III ports. Moreover, ASRock Industrial also offers MPCIE-M2 in full-size mini-PCIe to support mini-PCIe interface to M.2 Slot. Today, there is an increasing demand for data storage and server station. By adopting the storage module cards, the system can support massive SATA ports and in turn achieve a complete solution through fulfilling huge amounts of data storage with simplified system expansion and flexible integration.
Bifurcation, PoE cards, and others for many more enhanced benefits
The newly release Bifurcation module cards, PCIE-Riser-2S supports PCIe x16 to PCIe x8 expansion slots and PCIE-Riser-3S supports PCIe x16 to 1 PCIE x8 and 2 PCIe x4 expansion slots, featuring easy to install and use with high upgradeability, flexibility, and serviceability.
Moreover, there are MPCIE-CAN, PCIE-USB3.2G2-4 and PCIE-2.5GPoE-4P which allow systems to support power over ethernet LAN for many enhanced benefits. The MPCIE-CAN supports of mini-PCIE to up to two CANBus and is compliant with CAN2.0A and CAN2.0B identifiers. The PCIE-2.5GPoE-4P supports PCIe x4 to four 2.5G PoE LAN ports, and can also support Intel Gigabit Ethernet Controllers as well as 4-Pin Power Connector input power boost up to 60W. ASRock Industrial is also introducing the PCIE-USB3.2G2-4P that supports PCI Express x4 to 4 USB3.2 Gen2 Ports by using ASMedia 3142.
PCIe 2.5G PoE module card is ideal for surveillance, automation, and networking applications. This module card can be applied to a wireless access point, IP camera, remote sensor, and Ethernet on wish devices. By adopting the 2.5G PoE cards, the system can support power over Ethernet LAN ports to achieve the complete solution through simplifying system expansion and saving cost. A wide range of applications can be achieved through ASRock Industrial's newly released Add-on-Cards. They offer new potential in the business, retail, and security sector, maximizing usage, and expanding on functions in the most cost-effective way.
ASRock Industrial's new Add-on-Card product lineup:
Expansion Type

Display

Storage

Bifurcation

Other

Model Name

eDP-LVDS

M2-SATA-4P

PCIE-Riser-2S

MPCIE-CAN

eDP-VGA

M2X4-SATA-2P

M2X4-SATA-4P

PCIE-Riser-3S

PCIE-USB3.2G2-4

M2-VGA

MPCIE-M2

PCIE-2.5GPoE-4P
For more product information please go to
https://www.asrockind.com/en-gb/embedded-peripherals

---