Please follow the steps below to update the LVDS Chrontel firmware.
1. Extract the Chrontel firmware file and save to the root directory of bootable DOS USB drive.
2. Under the BIOS, please adjust "Active LVDS" and "CSM" to [Enabled], and then press F10 to save and exit.
(Path: BIOS > Advanced > Chipset Configuration > Active LVDS [Enabled])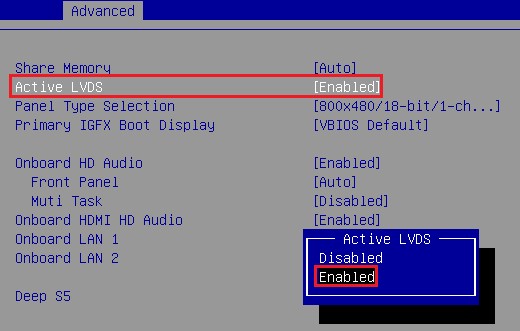 (Path: BIOS > Boot > CSM (Compatibility Support Module) > CSM [Enabled])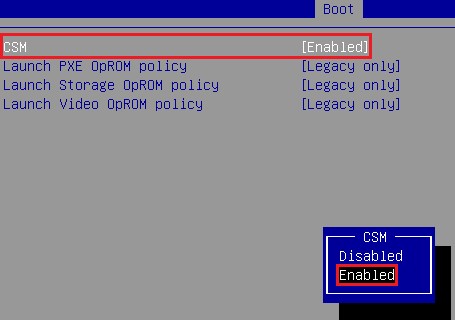 * Please set Primary IGFX boot display to DP/HDMI/VGA/DVI and then connect to the corresponding monitor to update LVDS FW if there is no display on LVDS panel.
3. When booting up system, press "F11" to enter into BIOS boot menu.
4. Select your USB type device to enter DOS environment.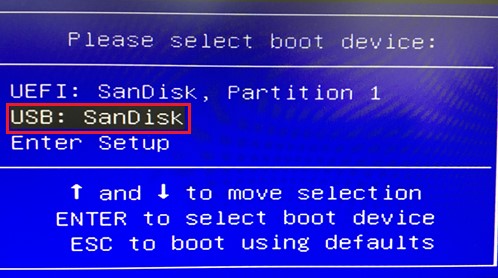 5. Under the DOS environment, please type "cd [folder name]" to enter into the folder, and then key in "lvdsrom" to execute Chrontel ROM flash.
6. After finishing the Chrontel ROM flash, you will see the following message: CH7511B image flash finished.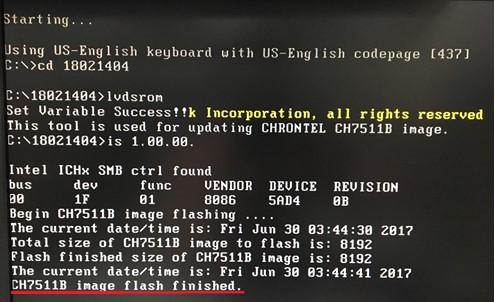 7. Reboot system and check if the LVDS Chrontel firmware is updated correctly on BIOS main screen.